OUR MISSION
The goal of the Association is to promote equality and professionalism in law enforcement. The objectives of the organization are to create a fraternal/professional association that provides its members and members of the community with career training; conferences and work shops to promote education and career advancement; mentoring; and a strong commitment to community service.
N.L.P.O.A. members build bridges between law enforcement and their communities while working to reduce neighborhood tensions through awareness programs and role model programs. Our philosophy regarding youth and education has reinforced the important contributions that our cultural diversity has provided this great nation. The National Latino Peace Officers Association is the largest Latino law enforcement association in the United States.
Membership Renewal
We are now accepting membership renewal applications for 2018.  Please visit the Membership Page to renew your membership and review the new benefit for our members that is sure to help with personal and professional growth.  Renewal fees are due on March 15, 2018.  Looking forward to all 2017 members renewing their membership as well as all of our past members rejoining our association.
SCHOLARSHIP BANQUET
The 15th Annual Scholarship Banquet will be on Thursday, April 219 2018 at the Spanish Hills Country Club.  Scholarships will be awarded to High School Seniors from Ventura County as well as college students.  We look forward to increasing the number of scholarship recipients this year.  Rafael F. Nieves the NLPOA California State President will be the Key Note speaker.  Tickets may be purchased by clicking the PayPal button on this page.
 

Recent Ventura County Chapter Events
NLPOA Ventura County Chapter Comedy Show
On Friday, August 4th, the Ninth Annual Comedy Show was held at Magnavino Winery in Oxnard.  We raised more than three thousand dollars for our Scholarship Fund.  Thanks to all that attended.  A special thanks to Robert and Barbara Wagner for allowing us to hold the event at their winery and for their wine donation to our silent auction.  We are looking forward to our next event.
NLPOA Ventura County Chapter Raises Money for Scholarship Fund
Chapter Board and Members worked a booth at Oxnard's Strawberry Festival to raise money for the Scholarship Fund.  This year's booth was near the Dr. Kato Music Stage.  In order to work at the booth, all chapter participants received certification in Responsible Beverage Service (RBS) training.   It was a great weekend of fun, food, entertainment and Strawberries, of course.  Thanks to all who worked at the booth!
TO VIEW SCHOLARSHIP BANQUET PHOTOS, CLICK ON http://goo.gl/Rmqvci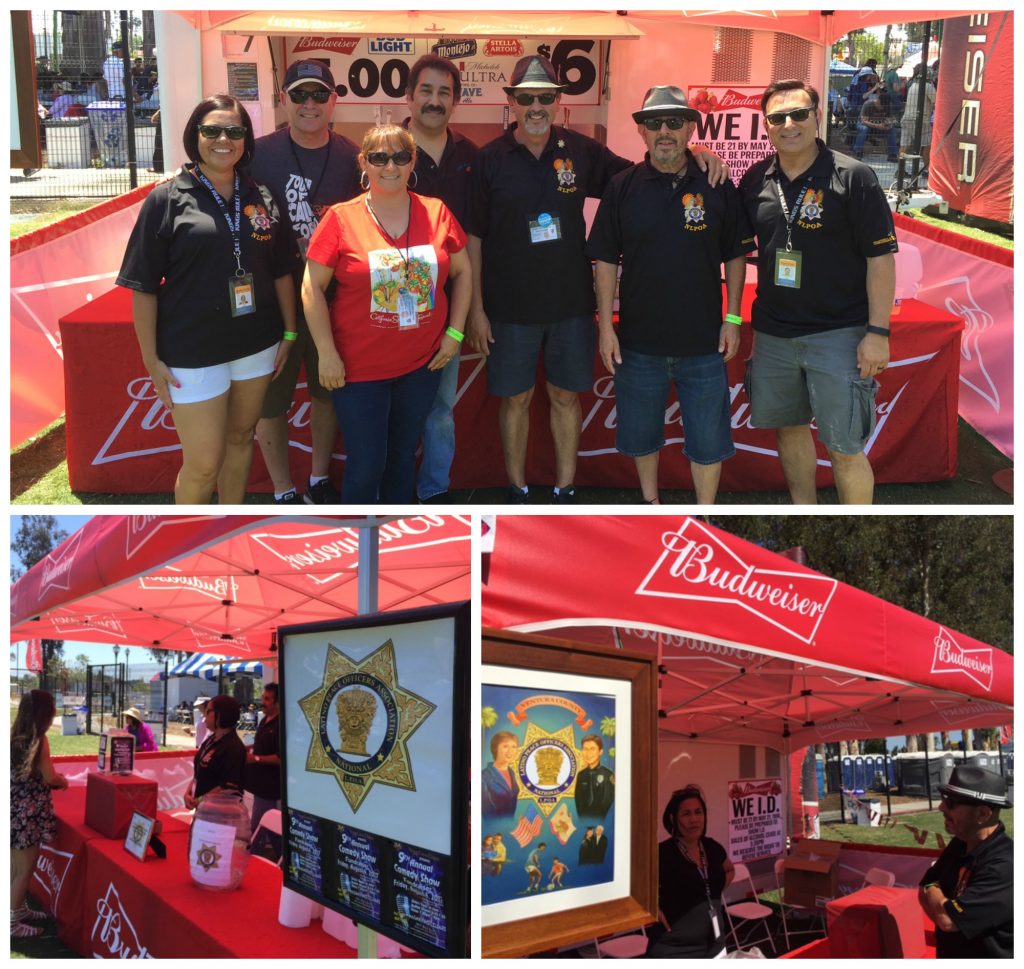 DEPUTY PETER AGUIRRE JR. MEMORIAL
In 2014, Retired Sheriff's Deputy Oscar Bermudez initiated the effort to honor Deputy Peter Aguirre Jr. who was killed in the line of duty after responding to a call of a domestic disturbance.  Deputy Aguirre has studied to become a school teacher, but after earning his BA degree from California State University, Northridge, he decided to pursue a career in law enforcement.  Fellow officers were impressed with Deputy Aguirre's hard work and dedication to his community.
After much hard work and support from local government officials, Governor Brown signed the legislation for the dedication and placement of a memorial sign in the Ojai Valley.  A replica of the memorial sign was presented to the Aguirre Family by Chapter Members Oscar Bermudez and Mike Aranda.  If you would like to donate to the costs of the sign, please use the donate button along the right side of this page and indicate your donation is for the Deputy Peter Aguirre Memorial sign.
Dedication Ceremony was held October 14, 2016.  Signs are posted on Highway 33 near Ojai California.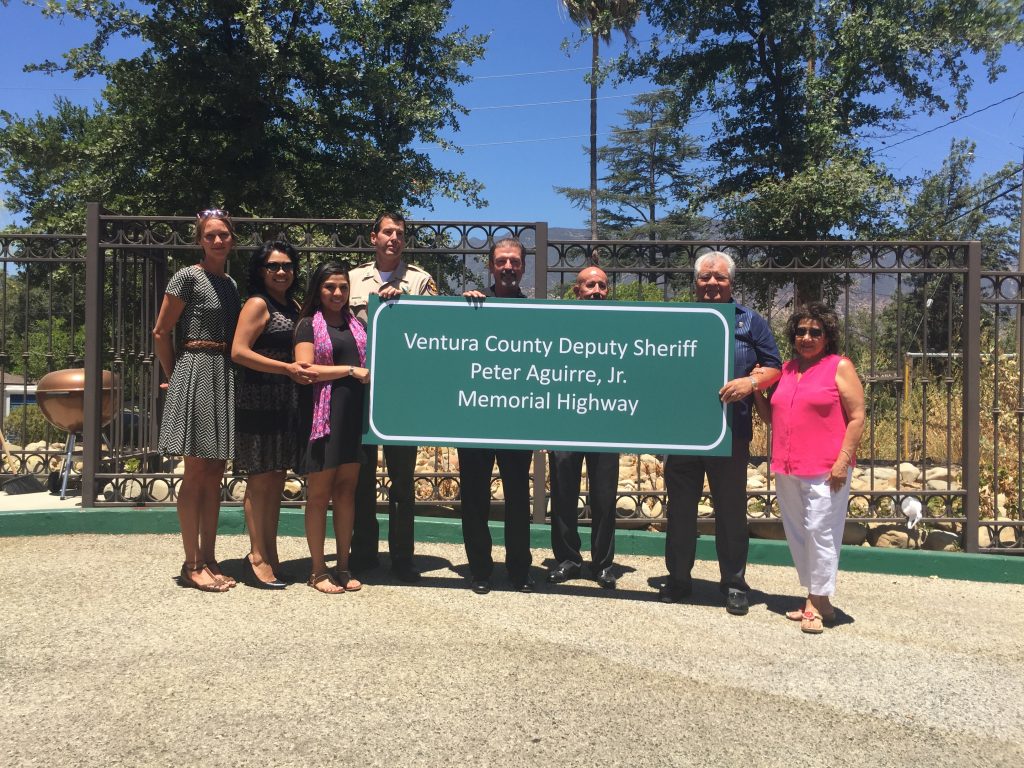 NLPOA CALIFORNIA STATE CHAPTER ELECTION MEETING
The NLPOA California State Chapter held elections September 17, 2016.  They elected Ventura County Chapter Members Ralph Nieves as their President, Mike Aranda as their 2nd Southern Vice President and Jackie Cruz as their Executive Secretary.  Congratulations to all new State Board Members.  For more information, visit www.nlpoacalifornia.com.
 PAST NATIONAL PRESIDENT CARLOS CRUZ MEMORIAL
Carlos Cruz a lifetime member and past National President passed away on August 6, 2016.  Carlos was born in New York City on June 30, 1940.  He enlisted in the United States Marine Corps and spent time at various places.  He often talked about his time in Japan.  Upon his release from active duty, he joined the California Highway Patrol.  He was one of the initial members of NLPOA and was the National President twice.  When he retired from the CHP he went back to school and earned a degree in Fashion Design. He had been a tailor in New York City and after graduation, continued his passion in Camarillo California. In 2009 he affiliated with the NLPOA Ventura County Chapter and immediately became involved in all of our activities. He served as the 2nd Vice President for several terms. In 2010 at a chapter function, he met his wife Jackie and they were soon married. Carlos was an avid runner and competed in the California Police and Fire games for many years winning numerous medals. The Memorial Service was held at Forrest Lawn Glendale Church of the Recessional. He will be missed by all. In lieu of flowers, Jackie has asked that a donation be made to the NLPOAVC Scholarship Fund.
 SCHOLARSHIP BANQUET
The 14th Annual Scholarship Banquet was held on Saturday, April 29, 2017 at the Las Posas Country Club.  We awarded $16,000.00 to 16 scholarship recipients.  The recipients were High School Seniors from Ventura County as well as local colleges.  We look forward to increasing the number of scholarship recipients next year.  Cindy Rodriguez the NLPOA National President was the Key Note speaker.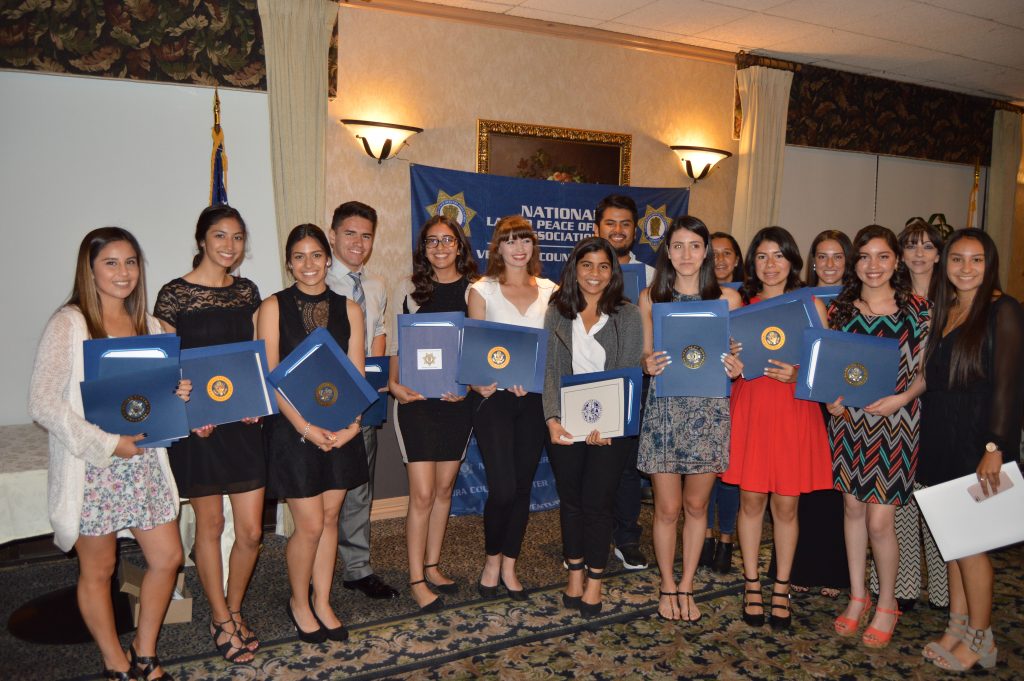 TO VIEW SCHOLARSHIP BANQUET PHOTOS, CLICK ON http://goo.gl/Rmqvci
HEROES AND HELPERS
On December 14, 2017 the Oxnard Police Department hosted the annual Heroes and Helpers the Target Store in Oxnard.  This is the fourth year that NLPOA Ventura County Chapter has been an active participant in raising funds for this event.  Over thirty children from area elementary schools received $200.00 gift cards which they used at the Target store.  The amazing part of the event was that the children thought of getting presents for their family members before they picked something for themselves.  Please use the Donate button if you wish to make a donation and be sure to note the donation is for Heroes and Helpers.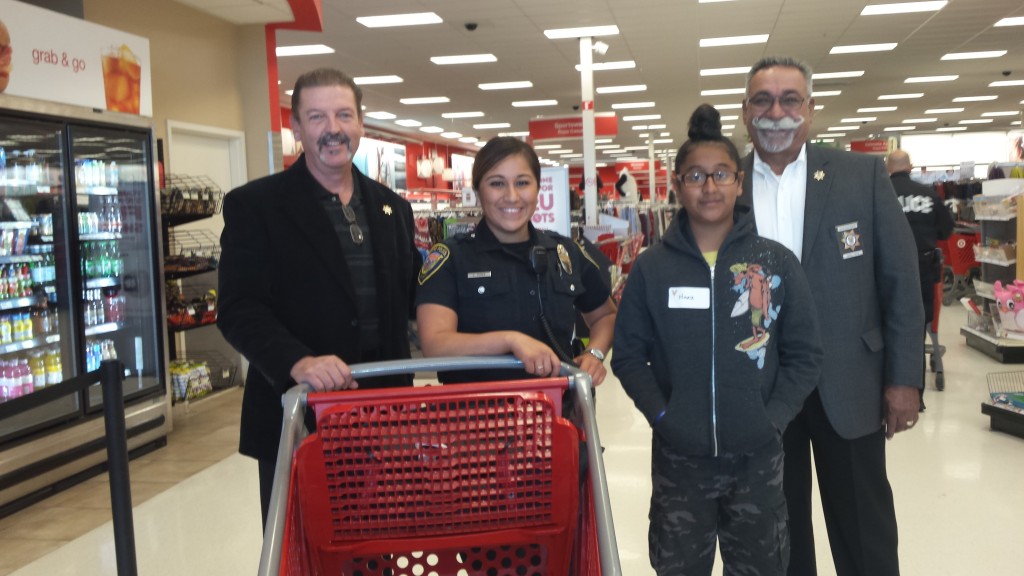 2017 -2019 BOARD OF DIRECTORS
The 2017-2017 Board of directors were sworn by the Honorable Brian John Back Judge of the Ventura County Superior Court.  The board officers are (L-R) Captain Don Aguilar (VCSO) Member at Large, CMDR Juan Reynoso (VC DA) Sergeant at Arms, Edward Castruita (Oxnard PD Retired) 2nd Vice President, Jill Nieves (Coastal Dermatology Retired) Treasurer, David Rico (AMS Management) Secretary, Detective Jaime Miranda (Oxnard PD) 1st Vice President Oscar Bermudez (VCSO retired) President.